It was a crazy experience, walking into her room. It had been a few months since my last visit and prior to this she was still walking around, able to give hugs, make jokes, ask questions. Life and character was still evident in her.
But now was very different. The front room of the house, was a medical bed, and all her hair was gone.
Thinking back to the years she had lived, the woman she had been, and yet still here before me was. The city she grew up in, the family she had loved, the people she had met, and even I would soon find out, the hearts she had touched.
What is it we hope to leave when we pass from this world? What is the goal of our every breath each day?
As I looked at the pictures of the grandchildren on the wall, there was part joy and pain. How she loved them, and they loved her, but would they ever see each other again?
Watching the people that came to visit those next few days I saw the warmth of past experiences being cherished.
It isn't often we think about death. It's all around, and we know its power all to well, but we keep on in our days by giving it no attention.
This trip was different. Two years I'd had to consider, mourn, and of course pray. I had spent the 14 hour flight in a cerebral state, knowing there would be few flights like this.
As my nephew and niece left for their Grandparents that morning, they had to stretch to their tippy toes, as they gave their grandma kisses goodbye. It was the forth day of my visit now and I was heading home the next.
When she had been asked what she wanted, knowing that her conditional could be terminal, she didn't want a lot of noise, she wasn't focused on being remembered, she said "I just want my family together one last time". Her husband, her two daughters, and her son.
That time had come, and though the house was full, it seemed empty. In between cups of tea, the rain, and whoever was coming or going, we as a family, were preparing for the worst.
Standing beside her bed the first day, getting to be alone with her, I bent over to give her hugs, and kisses, to say I am here. Unable to lift herself up, and speaking with fewer words than a toddler, what would I say? What would you say?
Thank you for giving birth to me, loving me, raising me, choosing our needs over your own? Thank you for loving dad, and though the thick and thin, doing your best? All those nights taking me skating in the rail, and the friends you invited into our homes, and the little details that are written more in my heart than in my mind?
A she turned to look at me, even as weak as she was, she was strong. She accepted her circumstance, she didn't want pity, she understood my visit, and she still was making the most of every moment.
"Look at me, but what are we going to do?" she said, addressing her transformed body, and the result of the world we are born into.
It was one of the few times in my life I had nothing to say. I didn't know how to relate, and isn't that what life is about?
I turned to look at the pictures of my three children, on the wall at the end of her bed, and as I looked back at her face, I began to cry.
She knew it hurt, she knew the time was near, and she knew their was nothing we could do.
"As much as I love, you, and as much as I wish I could do something about this, I can't. I'm so thankful for the life you and dad gave to us all, and for the hard work you put into everything, but mum, its at this time in your life I want you to consider something."
What I was about to share with her, was something, all of my family had heard before, but now, it would hold more weight than ever.
"Mum as much as I can do for you, and as much love I can give to you, there's only really one thing on my heart today."
As her eyes turned my way, and what she expected to hear was about to be spoken, she was going to see a final time, what matters most to her son in life.
"Mum, I wan't you to understand, that the reason were here, the reason your body is cancer ridden, the reason, who knows what can happen may happen, is because we are born into sin."
So many times she had stopped me, had something to interject, had a petition of thought, if only just as a way to converse with me, but here she heard me out.
"Mum as much as I can tell you I love you, as much as I can thank you for your life, there's a bigger picture. You and I can't change the result of what happens after this life, but Jesus can. He's the One Who invaded my life years ago, He's the One who died on The Cross for all of our sins, and He's The One who's blood was shed so that after this life, after it's all said and don'e we can enter into eternal life, pain free, cancer free, and onto perfection."
She was raised protestant, had attended a Billy Graham Crusade in her early teens, and had even gone down to the front, possibly confessing Jesus as Lord. She had always prayed for us, but the Christianity I had encountered in America was one of action, and motion, one of repentance, and living for the purpose of reaching the lost. Somewhere between the Spurgeon's, Ryles, Ravenhill's, and Wesley's, England had pushed back against the faith.
As my mother went on to marry my dad, become a homemaker, and raise her three children, their was little if anything we ever heard about Jesus.
Now, here before her bed, possible death bed, as I spoke about "Jesus", I was addressing both her passing, and that at His name I was saying more to her than I loved her. I was saying I want to see you again, I want to be with you in eternity, I want to know you understand this life,our vapor of time here, and that we can look back on this life one day as just a memory. These thoughts of pain, and hurt, and wretched decay.
While many would have to ask, "well if there is a God, and if He really is good, why would He let this happen?", I would confidently answer, that the reason He is good, is because He knew this would happen, knew we would be born into this world, and that because of our sin, we all will die, and that showing He is a good and caring God, He sent His Son to die for us.
As my mother continued to listen, making a point that she was, she nodded as I asked if she believed Jesus came to die for her sins. She nodded as I asked if she had asked Him to forgive her.  And she nodded when I asked if she understands that we are just passing through this life, and that the whole goal is be forgiven, washed in His Blood, and redeemed, as we repent…
I prayed over her that day, and I asked that God would heal her, just as I, and many along side me had been praying these two years. Many members of various churches, friends, even as far as Facebook friends and more. We were asking and believing God would heal and turn about the circumstances.
One of the things we have to know about life, is that no one ever dies from old age. No!, what happens is the body shuts down. Even if they died in their sleep, or "passed peacefully" as they say, there is always something that has failed within us that took our breath away, stopped our heart from working, and so on.
After my conversation with my mum that day, there was no more to be done but love on her. We made ourselves present, and let her know she was special to all of us. We were expecting something very dramatic and devastating that could change our whole lives, as for all of us, no one this close has ever passed.
After the grand kids had left for school, dad headed out to the store. As my sister susan took care of making sure mum was clean, as she was built for this, my sister Elaine and I sat in the other room talking about  my leaving the next day.
Mum had fallen asleep, and wasn't breathing so good. As she began to breath deeper we sat beside her, as she fell in and out of consciousness.
As dad arrived home, he put away the groceries and sat to spend some time alone with his wife. Yes she was our mother, but she was his wife first, she was his other half, flesh of his flesh and bone of his bone, taking upon herself his surname, and giving over 40 years of her life to this man.
Dad was a strong man, always a great example to me. He didn't like people to be taken advantage of, worked hard everyday, and he always involved himself in the lives of his children and which ever of their friends showed up to our home.
15 minutes later dad walked out of the front room and In a soft voice, as so not to alert my sisters it seemed, he said "I think she's gone".
"Gone"?, in my head. "Really?" I said, without wanting an answer.
I walked through the hall and into the what had become "mums room". She looked small, she looked cold, and sure enough, she wasn't breathing.
My sisters slid into the room with shoulders propped up and hands out as if we were about to be faced with something. One looked to me and one to dad, and at once together, we all looked to mum.
She had gone! Left this earth, and on into eternity.
As my dad stood in front with my sisters on one side and myself on the other, not knowing what to say or do, over her lifeless body, it was like we were waiting for something else to happen… But it had already happened, hadn't it. With all surety from the moment we enter this world, our date with destiny is set.
"Dad if this is a joke and she's about to sit up" I said… He turned and looked at me. Were we supposed to cry? How do we find closure in this? As I stepped in and put my hand on her head and over her eyes, her mouth fell open. As it did I closed it only to fall open again. All at once silence was broken as my father and sisters broke out chuckling. Really? Mums gone, and we are standing over her chuckling?
It was like nothing we had expected, but it was exactly as she had asked. Her children were home, a house hold of five, as her own husband with the privilege of holding her hand sent her on her way. The chuckle surely came from a sense of peace, and a knowing that a wife, and mother, wasn't in pain any longer.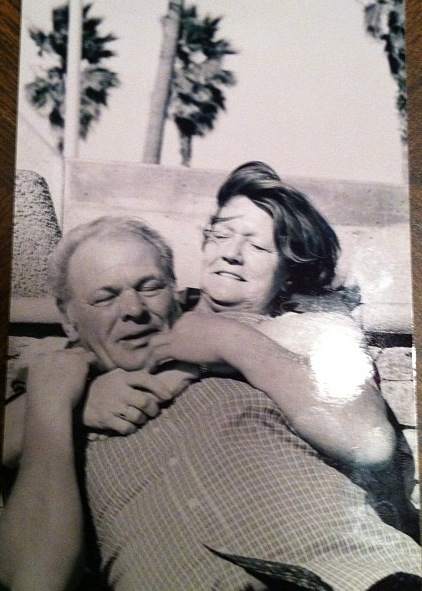 My childhood skate friends were showing up to visit in a just a few minutes. Should we turn them away, say she's just passed, does life just continue on?
There was a knock at the door, and as I answered to give them the news, my sister Elaine came up beside me and let them know mum had just passed. The four of them looked as shocked and without expression as we had been. Tongue tied and not wanting to intrude they offered comfort by saying they were "sorry", and "did we need anything".
Amazingly, and without thought, they were invited in, for tea and biscuits. Amazingly, and without thought, they came on in. Amazingly, and without thought, this is how my mother would of wanted it. An open home of family and friends.
As we sat and talked, shocked but at peace, of all the years I had spent with these guys, and of all the experiences of travel, skating, and more, no memories will mean as much to me than the fact that each one of them made there way into the front room, wanting to say goodbye, speak of what she had been to each, even offering up kisses to her forehead.
Her spirit was gone, but the life she lived was represented by this body, or tent as The Apostle Paul called it.
I was surprised at how well I slept that night, surprised at how casually I woke up, rode to the airport and flew back home to California.
It's been many months now, and there isn't a day that goes by that I am not thankful for her. She was buried in St Luke's Church in Liverpool, the very church she was married in. She was cremated and remembered along side her family. The last trip my dad made over here to visit, he brought some of her ashes and we released them here in Huntington Beach where we will remember her even more.
When you hear the name "Norma Jean" you may think of a blonde actress from the 60's. But to me, Norma Jean is my mother. A woman who passed in her 60's, who did live her life for others, and who of all the greatest things accomplished in her life, its that she upon her death bed, I believe and hope, put her trust and faith in Jesus Christ.
I no longer look at her passing as a tragedy, but a putting to death the flesh, and a graduation for the spirit. Jesus said "I came to give life, and life more abundantly" (John 10:10), meaning He came here to save us from this cursed world, here to wash us in His Blood, here so that Norma Jean Sumner, just like the thief on the cross, could cry out in thankfulness and repentance and be forgiven, knowing she would be raised one day, restored.
I began writing this this morning, unintentionally, as I started having memories of my mother. It's now the night and all I have to say, is "thank you mum, for all your love, and thank you Jesus for entering into our lives at exactly the right times".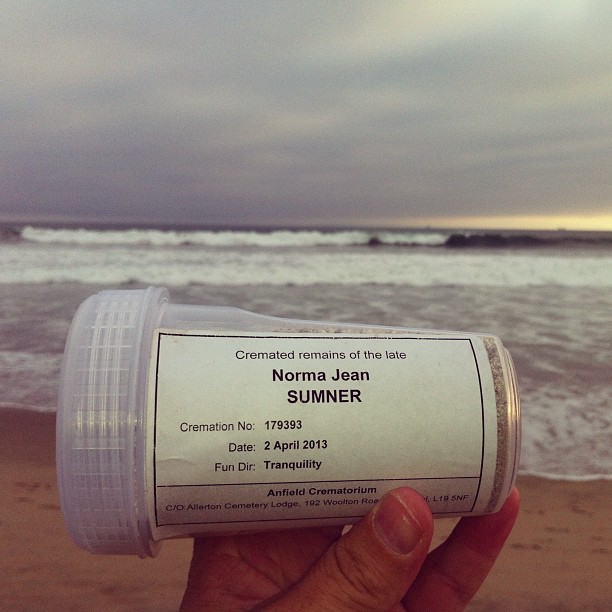 I hope to many of you, this is a Light and path to the purpose of this life, redemption in Jesus Christ alone.
Love you mum, glad I was there for your graduation. Thanks for everything… †
Romans 10:9 "if you confess with your mouth that Jesus is Lord and believe in your heart that God raised him from the dead, you will be saved. 10 For with the heart one believes and is justified, and with the mouth one confesses and is saved. 11 For the Scripture says, "Everyone who believes in him will not be put to shame."
Acts 4:12 "And there is salvation in no one else, for there is no other name under heaven given among men by which we must be saved."