So thankful for this opportunity. I'm writing this post today to ask for your support in this new venture of my stepping out to do full time ministry into Huntington Beach Ca and beyond.
In 2004 when I got saved I still had many  big sponsors and was able to use that money and even savings, for the next few years as I travelled the world for outreaches, events, speaking in churches and serving at my home church.
Attending Bible school, also doing online courses, being involved in many giant events to hundreds of thousands, down to the smallest crowds we could find, has defined my sure call of evangelism.
These past two years I have been attending Rock Harbor Church in Huntington Beach, where my family and I have gotten involved with various ministries and I am part of the teaching/preaching team. There is a big vision for the community with in this church and we are excited to help.
At 34 and with a wife and three kids, I cannot imagine doing anything other than full time ministry, reaching out, encouraging, sharing with and building up in Jesus Name.
When discussing whats next for me going into 2014, already with invites from friends, and ministries to partner with them through out the world for upcoming outreaches, The Rock Harbor Church also felt I can be used on the mission field here in Huntington Beach.
Doors have been opening to speak at many of the local schools, rehab centers, young adult ministries and of course the churches. This past week getting to share at "Sowers" middle school, then at "The Crossing church" in the night. We saw 65-75 people confess Jesus that day, and at night 12 people got baptized. Last night I got to preach to the sunday night service through the book of Zephaniah.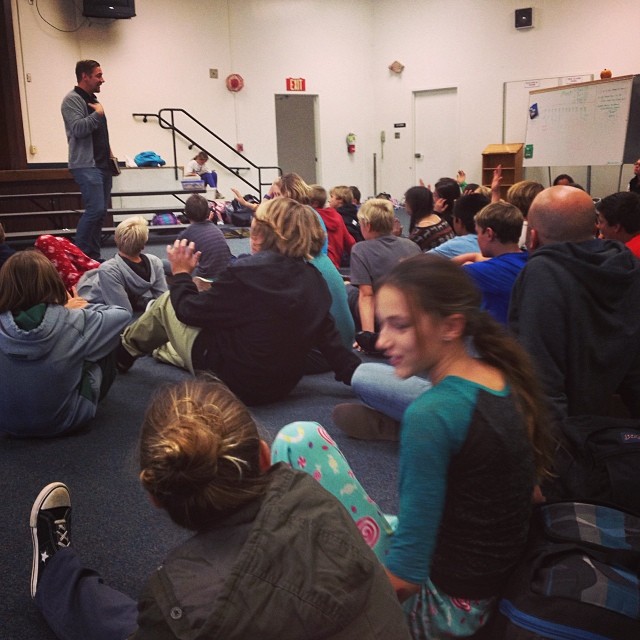 As these doors keep opening and weekly there are opportunities to "share tomorrow", or help plan the next outreach, the momentum is building to reach both the 220 000 people here in Huntington Beach, and also for whatever God wants to do around the world. This is where you come in. I am writing this to ask for your financial support. I don't mind having a full time job, I want whatever God wants for me, The Bible actually says "if a man doesn't work, he should not eat", and that "he who doesn't provide for his family is worse than an unbeliever". It also says that "the gift will make room", and that "the gift and call of God is irrevocable", that "the Lord commanded that those who proclaim the gospel should get their living by the gospel.". From these verses I have to ask, am I called to be available non stop for my home church, and all that goes on, to be freed up to be ready to speak in and out of season wherever?
The Rock Harbor has affirmed this call and feels that with all that I can be a part of within their ministries weekly, and this call to be a missionary into Huntington Beach, along with their eagerness to continue to see me travel the world sharing as needed, that now would be the time for me to start raising support. Aside from these practical things, as you know with my testimony, and doing marriage courses, while currently writing a marriage book, I meet with couples almost daily to help with what God says on how to make marriages work.
I'm excited for this season, as I can see the possibilities, but I am also aware with fundraising, that the American church has been bombarded with sitting in pews, and being just as much a consumer society at those outside of the church.
The people who signed up to help support what I am doing this month, will be reaping in Heaven, for those souls who came into the kingdom last week. Jesus said to "store up for yourselves treasures in Heaven" not "here on earth"…  With less than 33% of the church worldwide actually giving and supporting ministry with in the church, and often times people with lots of money, who make decisions with it and manage it, often being the ones who hold onto it the most, I understand now what it takes to raise support. We make so many decisions with out praying, yet one someone asks for financial support, we say we will pray about it, as if God hasn't already told us to support the work we see Him doing. I am not saying this to arm bend, but saying that I am amazed that many people are not confident that their supporting the work of God, will actually result in their partaking of that ministry He does eternally. This I see, it also a reason why the prosperity Gospel here, will rob people of more treasure in Heaven.
The Rock Harbor has set up an account through their non profit that is specifically set aside for my job title/position. It's definitely ambiguous, as City Pastor/Urban Missionary/Evangelist, lol, but those of you who know me know exactly what it looks like. Every cent that comes in sits in an account, and only what is needed is released as a salary monthly.The money can't be abused, and many people oversee it so it is stewarded rightly, as The Bible says.

For all the sketchy things I have seen done with money, I am thankful skating showed me enough of it to see it in itself is neutral, but that living for The Gospel and reaching souls is not. Everything finds its purpose in Christ, and its in this, that I ask you to come along side and support.
It isn't about the writing big checks, and going without. The idea is that for the same price of a meal a month, with enough people supporting monthly, there will be enough to support this call. If you are going to support, consider what it costs for two cups of Starbucks, for a video game, a pair of shoes, and on. With the Kingdom in mind money looks different.
Thank you for your time and I am excited for this partnership…
I will be sending out daily updates through Facebook and Instagram, along with newsletters through out the month.
Here is the link to the support page.
I can answer any questions or concerns you have by emailing here through this site. Thanks and God Bless.
Thankful to the sponsors of Airspeed Footwear and Reliance Skateboarders, helping me along this path.
†